C o l l e c t i v e // Marina Scott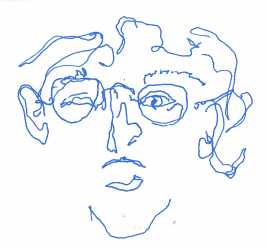 When I arrived in Cambridge in 2015, I was immediately surprised at the seeming lack of a unified creative scene within the student body. Having grown up in Falmouth, where the arts University functioned as the heart of the small town, it struck me as strange that there seemed to be so few students making things in Cambridge.
Many of these assumptions, I'm sure, came from a place of naivety, and the overwhelming experience of knowing no one in a new city. I gradually found that most people were engaging in some kind of creative practice–drawing, painting, composing, writing–but that they were often reluctant to share their work, lacked the space or platform, or thought that they weren't talented enough to do so (imposter syndrome truly leaves no cracks unfilled).
In 2017, I applied for funding from my college to kick-start an eclectic arts society, C o l l e c t i v e. The goal was to try and provide an inclusive platform for student artists. A team of curators and organisers created and managed a Facebook presence and opened submissions, accepting any and all mediums. Anju Gaston designed a beautiful logo, based on Sidney's squash court space which we used for exhibitions (and which has since become a popular venue for arts-based events). Between 2017-2019, we hosted a number of shows, including the themed events 'Waves' and 'Plastic' at the Blue Moon pub, with a variety of pieces: sculpture and ceramic, paintings and drawings, ambient sound pieces, and memorably a collaborative live poetry coding performance from Henry Page and Joel Lucyszen. We edited and printed a number of poetry zines, including 'phonenote zine' which explored the immediacy and intimacy of the medium of the notes function on smartphones (inspired by Oscar Ridout's poetry).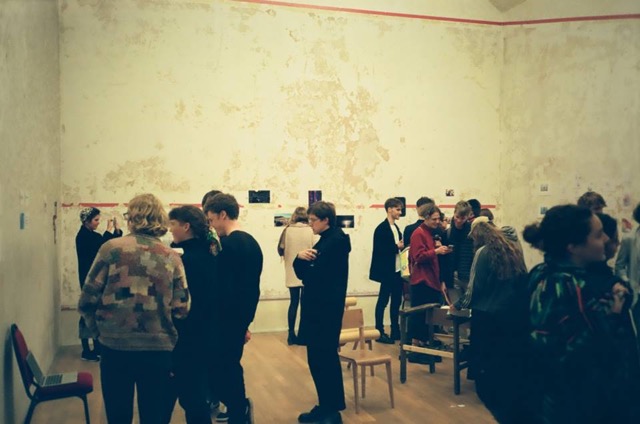 Aiming to engage as many people as possible and provide a space that countered the academics-centric, often damaging, pressurized environment fostered institutionally by the University, we consistently ran free and accessible 'drink & draw' workshops in Sidney bar. We provided materials, visual prompts, and drawing exercises (including the popular 'don't look down' continuous line drawing challenge), and ran collaborative workshops with Cambridge University Prose & Poetry Society (CUPPS), as well as Sidney Femsoc, raising money for Cambridge Rape Crisis.
The events took off: overcrowding became a bit of a problem, but it was amazing to see people relaxed and engaging in the practice of making things. I reached out to Sidney's resident art therapist, who lent us a marble inking set to incorporate in the workshops. Though not centred on therapeutic making per se, I hope C o l l e c t i v e went some way to dispel the idea that creative practice is for a stereotypical type of 'artsy' person. Our workshops hopefully provided a space in which anyone could make freely.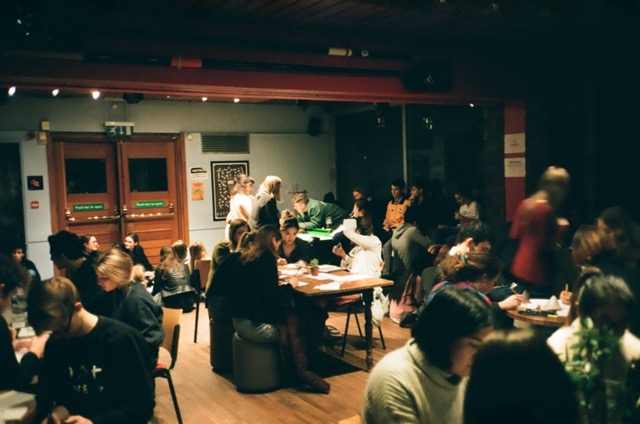 Personally, running the workshops, and receiving such lovely feedback from so many people, made me reflect on the value of artistic process in relation to capital A, aesthetically valued and culturally theorised 'Good Art'. Socio-cultural standards of artistic value have inevitably been shaped by colonial and patriarchal powers and, as noted by Anki Deo in her piece on third space, an exhibition for diaspora artists, platforming marginalised artists and actively critiquing the art world is direly needed. I hope that the workshops, as well as our collaborative work with the Femsoc, gestured towards a breaking down of these norms, though in hindsight I think the society could (and indeed should) have done more to overtly address concerns about representation in the art world. Any curatorial practice, however small, is politically charged, and we have a responsibility to recognise and act on that fact.
As C o l l e c t i v e gained traction through our workshops and a fast-growing social media presence, we began to receive promotional requests from other emerging arts ventures in Cambridge. We published various events and calls for submissions on our page and were delighted to witness the growth of the creative scene amongst the student body. Institutional memory is short owing to the standard three/four year turnaround of individual students, but I would love C o l l e c t i v e to continue in some form in the coming years: to continue to provide a space were everyone can make freely, and to critically engage with the art world.
---