TWENTY FOUR
The Mays Anthology XXIV is available to order now!!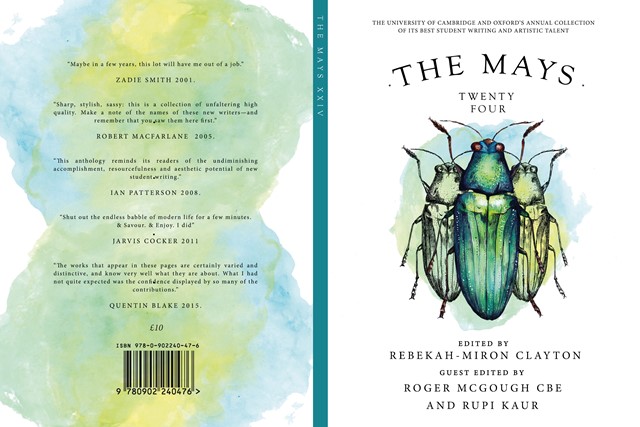 You can order your copy here: https://www.themaysanthology.co.uk/purchase/
Submissions for The Mays Anthology XXIV are now open until Sunday 9th April at noon!!
This year's anthology is seeking a broader spectrum of creative talents than in previous years, accepting all mediums of artistic work. We will be continuing last year's move away from confining categories as such constraints have often excluded some exceptional work. This year's successful pieces will be featured with fluidity. We are particularly looking for work in forms that deviate from what is often featured in the conventional anthology. Whilst we continue to look for the best poetry, prose and artwork, we also hope to encourage those artists whose creative work lies outside of this traditional template. We encourage you to be as bold and creative as possible and you are welcome to contact us for any more information about what it is possible to include. For example if you intended to submit a performance piece or video, we would need to discuss practically how this could fit into the selected works. 
//poetryprosepaintingphotographychoreographyscoresblueprintsprintingscripts//
FORMATTING GUIDELINES:
We encourage you to submit up to 3 pieces for consideration, we'd like to get a full idea of you as an artist.
Each work must be on a separate document.
Please do not include your name on the submission documents themselves. The selection process will be blind.Literary submissions should be saved as .docx or .doc.
Poetry submissions may be a maximum of 60 lines
Prose submissions should be a maximum of 2,500 words
Please state in your accompanying email whether any of your submissions are excerpts from longer works
Visual arts pieces should be submitted in .tiff or .jpg format, at the minimum image standard of 300 dpi.
Email your submissions to mays-submissions@varsity.co.uk
Submissions must not have been previously published – Please ask if you need more information about this or rights agreements.
MAYS MENTORING
The Mays Anthology also runs an annual mentoring programme which pairs promising talent with more experienced artists. Places are limited. Please state in your email if you wish to be considered for the scheme.
Good Luck! We look forward to receiving your work!